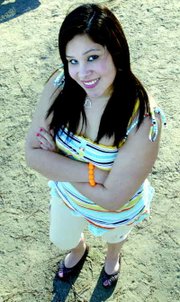 Cinco de Mayo means a lot to 16-year-old Jeannette Hernandez, a sophomore at Sunnyside High School. The events that happened so long ago on May 5 fill her with pride.
She said it proves that Hispanics have what it takes to be powerful, to win and to be leaders.
It's also a time to celebrate, to be with her family and enjoy the festivities in Sunnyside, she added.
She said she is vying for the Sunnyside 2007-08 Miss Cinco de Mayo crown because she wants to be a role model to young girls who might want to be a Miss Cinco de Mayo in the future.
"I've always been interested in pageants," she said. "Pageants help people a lot with scholarships. They're not just beauty pageants anymore. You don't have to be pretty to win."
If Hernandez is named this year's Miss Cinco de Mayo, she said she's committed to working with Central Washington Comprehensive Mental Health in Sunnyside as her community service project.
"I would like to help out by spending time with them," she said of the clients at Central Washington Comprehensive Mental Health. "I see them at school and they're separated. I don't think they should be."
She said she would just like to hang out with them and be their friend.
Hernandez named her biggest role model as her mom.
"She's been through a lot," she explained. "She has helped me out so much. She tells me what to do and what not to do."
Hernandez said her mother came