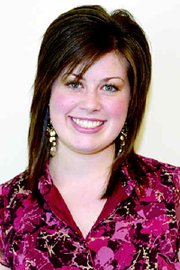 Sunnyside's Laken Top was named to the 2007 All-Washington Academic Team recently and will be formally honored this Thursday, March 22, in Olympia when Gov. Gregoire will award each student selected a commemorative medallion.
Laken, a Running Start student at Yakima Valley Community College (YVCC) in Yakima, was one of two students named from the school. Two students from each community college and technical school in the state are recognized.
"I was totally excited," Top said when she was named to the academic team. "I was surprised, too."
Top was named with her friend Matthew Cook, with whom she shares a class. She said they helped each other with the application process and proof read each other's essays they had to write, explaining how they use the knowledge they gain at college to help the community.
Top, a 4.0 student and accomplished piano player, has taught piano and used that as one of the ways she helps the community.
Top has excelled in her studies and spends time tutoring at the math center at YVCC. She plans to attend the University of Idaho this fall, where she will study chemistry and math.
"I have some friends that are already going to Idaho," she explained. "That made the choice easier, plus they have a strong chemistry program.
"Also, there is a strong church community in Moscow and that is very important to me."
To be considered for the state academic team, Top had to fill out an application and write an essay about how she has used her skills to help the community. She wasn't sure her teaching others how to play the piano was enough.
When she's finished with university she hopes to either teach or do something in research.