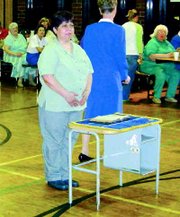 MABTON - It has been a while since Mabton has had a VFW Ladies Auxiliary for VFW Post 10384. But, all that has changed.
The Mabton VFW Ladies Auxiliary was officially recognized and officers were sworn in this past Saturday, March 17, at Artz-Fox Elementary School.
VFW Auxiliary state president Tami Waggner was on hand to swear in the officers and to recognize the efforts of the auxiliary in achieving recognition.
Newly sworn-in President Delia Cerrillo was excited during the ceremony. After all the officers had been sworn in and seated at their "posts," she exclaimed, "Ladies, we're on our way!"
During a brief speech to those in attendance Cerrillo recognized the district, state and national representatives who had helped the auxiliary reach their goal of 21 members and obtaining their charter.
"This is just the beginning. We appreciate all the moral support given to us," she stated.
Wagner presented the chapter with gifts from across the state. She was followed by National Senior Vice President Virginia Carmen, who presented a monetary gift from Skyway Auxiliary in King County among other gifts.
Past state president Phylis Phelps, who has been of great assistance in helping the new charter, presented her personal gift of member pins to Cerrillo.
During a refreshment period that followed the ceremony, Mabton Councilwoman Vera Zavala commented, "I am honored to have the ladies auxiliary in Mabton."
Due to several family emergencies among the members of the chapter, there was a question as to whether or not Saturday's ceremony would even be able to take place. "We needed 10 members to be present," said Ruth Gordon.
"It was all touch and go," Cerrillo added.
She said she and the other members were afraid the state and national representatives would have "...traveled across the mountains for no good reason if we couldn't have the ceremony."
She said it was especially important for Maria Teresa Reyes. "Her brother is a member of the VFW in Illinois. He was a Sky Soldier in the elite forces of the 173rd Airborne Brigade and has seven sisters. She is the only one who recognizes his service to our country and he wrote a very touching letter about how honored he felt that she wanted to serve on the ladies auxiliary."
Fortunately, 10 members were able to be present and all fear was alleviated and the ceremony was an obvious success.