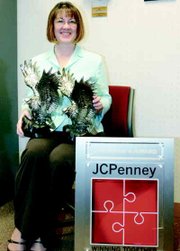 JCPenney Department store has graced Sunnyside with its presence since 1922. Over the years the styles have changed and the store even changed its location, it is now currently at the Mid-Valley Mall.
For the fourth straight year and the fifth out of the last six, the Sunnyside JCPenney store has been awarded the Chairman's Award.
"A big part of it," explained store manager Jonica Bridges, "is as much as our customers are loyal to us, we are loyal to them."
The award is given to the top 15 percent of stores in the JCPenney chain, which boasts 1,086 stores at last count. One hundred and seventy eight stores and their district offices made the top 15 percent and the Sunnyside JC Penney was No. 119.
It was the only Washington state store in its district to receive the award.
Bridges said JCPenney has a long history in the Lower Valley. At one time there were stores in Prosser, Toppenish and Yakima. She said due to the ebb and flow of these cities' economics, the Sunnyside store is the only one that remains.
To be considered for a Chairman's award, a store must meet four criteria.
1. The store must exceed sales originally planned by the company.
2. The store's profits must exceed what the company had planned.
3. The store's sales must be higher than the previous year.
4. The store's profits must be higher than the previous year.
Every store that meets these criteria is ranked and the top 15 percent are rewarded.
Bridges credits her store's success to the increasing population in the Lower Valley.
"We're offering more merchandise in our store, our catalog and on the internet," she said. "Our catalog and internet sales allows us to be even bigger than what the store is in size."
Bridges also credits the employees that work at the Sunnyside JCPenney, adding she has great employees who are great people.
"They're dedicated to the customers," she said. "They really work to make the customer satisfied. To go that extra step to help the customer is going on all the time here."