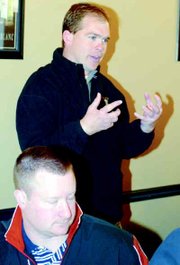 GRANDVIEW - Six days short of his 18th birthday, Jesus F. Torres of Grandview was taken into custody yesterday on charges of shooting 28-year-old Steven Coronado of Sunnyside.
Coronado was shot during what local police said was a gang confrontation last Thursday night, March 15, near the Bob's Park and Pak convenience store in Sunnyside at Ninth Street and Lincoln Avenue. Coronado survived the gunshot wound to his torso area after being treated for his wounds at the Sunnyside hospital.
Sunnyside Police Detective Jeff Cunningham said with the assistance and cooperation of the Grandview Police Department, the 17-year-old Torres was identified as the suspect in the case, and had been sought by both agencies since last week.
Tuesday afternoon, said Cunningham, the Grandview teen was seen in the area of the 300 block of Birch Avenue in Grandview. Cunningham said Torres ran from Grandview police officers when approached, fleeing into a nearby home.
"The residence was surrounded by Grandview officers and officers from Sunnyside arrived to assist," said Cunningham. "A short time later, Torres was taken into custody."
Cunningham went on to explain that Torres has been taken to the juvenile detention center in Yakima. Initial charges of assault first degree, drive-by shooting and unlawful possession of a firearm (second degree) have been filed against him.