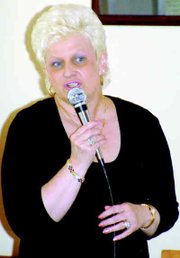 Cheryl Best of Vancouver, Wa. has had success in a career that included ballet dancing, but on Monday she shared with the Lower Valley Christian Women's Club the second chances that have meant even more.
After becoming pregnant during her junior year in high school, Best spent a year in what was then called a home for unwed mothers.
"It was 1965 and you have to remember it was a shameful thing," she said of views then on teenage pregnancy.
Best said the focus of the home was to constantly remind her and the other girls of their guilt and shame. After giving birth to a daughter at the home, Best said an egg timer was placed in her room and she was given three minutes to hold the child before giving it up for adoption.
She said the experiences made her feel that God couldn't love her or forgive her. It also soured her on other relationships and drove her to focus on a career.
Eventually, second chances came into Best's life, including her husband, Cash Best.
"He knew what he wanted and fortunately it was me!" she laughed.
The couple both found good jobs, bought a big home and filled it with furniture. But they hadn't learned to save.
When their jobs fell through, Best and her husband ended up selling off the furniture pieces one by one.
"We were sitting on the floor of this big house without any furniture and thought maybe we should go to church," she recalls.
She noted the pastor's sermon that morning focused on sin, but in a different way than she had heard before. "I found out that God loved me, that Jesus died for me," she said. "When I learned that God loved me I could love myself."
She and her husband gave their lives to Jesus that same morning, Best said.
Since then other second chances have come her way, such as adopting two foster children that came from troubled homes. The youngest, age six at the time the Bests took him in, had already lived in 23 homes.
Both boys are fully grown now and the oldest is married and has made Best a grandmother.
"To look at those boys you'd never know their past before we adopted them," she said proudly.
The second chances have also included an opportunity to finally get reacquainted with the daughter she had to give up for adoption more than 30 years ago.
When her daughter gave birth to a daughter, Best was right there.
This time there wasn't an egg timer in sight.
"When they brought the baby in the room she let me hold him first, and I held him for a long time," she smiled through tears.
Best expressed gratitude to God for her second chances and hope for the future.
"I don't know what my future holds," she said. "But I know Who holds my future."