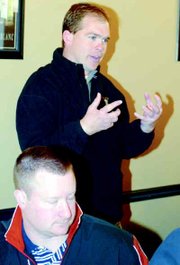 Herman te Velde and Jerry Haak are hoping to transform the marketplace in Sunnyside by bringing faith into it.
Haak and te Velde showed a video at Wednesday morning's Sunnyside Daybreak Rotary Club meeting that showed how a town in Minnesota brought the Kingdom of God into its town and improved its citizens' way of life.
Haak said there are three ways to transform a city: through the marketplace, the churches and the government. He would like to see all three come together.
In the video, a key to the town in Minnesota was the mayor welcoming Jesus into the city. The ministers reached out to the marketplace and business owners were able to continue ministering to the public.
This way, it wasn't only on Sunday that people were learning about God, but everyday of the week.
"We want to broaden the four walls of the church and bring it to the outer community," Haak said.
te Velde has already shown the video to the Sunnyside Ministerial Association and his and Haak's next step is to show it to the Sunnyside mayor and then hopefully get local businesses, the police and the Sunnyside School District on board.
"We're in a communication phase now," Haak added. "People have to commit to doing it."
He said if there is something people see and don't like, they have to go after it to fix it.
Ideally the group, tentatively titled the Transformation in the Marketplace for Sunnyside, hopes to meet regularly with city leaders. They would then ask the police chief what his biggest worry is at that time. They would then pray to God for advice and solutions. The same would be done with the Sunnyside School District superintendent.
te Velde left the Rotarians with this quote, "If you want to see what you haven't seen, you have to do what you haven't done."