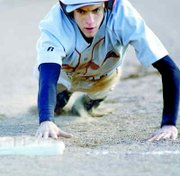 GRANDVIEW - A young Grandview baseball team played a very tough East Valley team tough last night but allowed too many errors and walks as the Red Devils pulled away in the fourth inning for an 8-2 win.
Tony Chester started on the mound for the Greyhounds and pitched three innings. Chester faced 16 batters, giving up only two hits, but he walked three batters and left the game behind 2-0.
That's when the problems for Grandview started.
Jeremy Stegeman took over for Chester on the mound and three hits, a walk and two errors later, the Red Devils had jumped to a 6-0 lead.
In the bottom of the fourth Grandview scored two runs to close the gap to 6-2.
"We were only behind 2-0 going into the fourth inning," Grandview Coach Mike Chester said. "Against a team like East Valley, that's pretty respectable. If we don't give up those runs in the fourth, we're tied at two with them."
Stegeman wound up allowing five hits and six runs, only two of them earned, though.
In the sixth inning the Red Devils added two more runs to make it 8-2.
"We can't make errors and give walks to a team like East Valley," Chester said. "We have to make them earn everything."
Chester pointed out his pitchers only allowed three earned runs and if the runs from errors were taken away, it's only a 3-2 game.
Joel Cardenas pitched the seventh inning, allowing only one walk and striking out three batters. The younger Chester had six K's in his first three innings of work.
Chester said the youth of his team had a lot to do with the errors and that's something he'll be working on with his team this week.
Grandview (2-1, 2-3) will travel to Ellensburg this Saturday, March 24, for a doubleheader starting at 3:30 p.m.