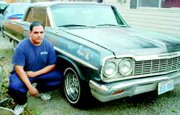 GRANDVIEW - Rudy Saenz Jr. came within an ounce of his life.
Literally.
Diagnosed with the childhood blood disorder ITP when he was 15, Saenz had surgery to remove his spleen in 2005 after graduating from Compass High School in Grandview.
Complications immediately after surgery led to internal bleeding to an extent that Saenz's father, Rudy Sr., said doctors told him that Rudy would have died had he lost one more ounce of blood.
ITP involves the body's immune and blood clotting systems and occurs when a person makes antibodies that attach to his own blood platelets.
Since the spleen surgery, Saenz's health has improved but he knows ITP could flare up again and knock him down. Even now with the ITP in control, Saenz said it takes him weeks to overcome a flu bug that might take an otherwise healthy person a few days to overcome.
ITP can be a life threatening illness and several months before his 18th birthday-and before the surgery that nearly took his life-Saenz's wish to customize his 1964 Chevrolet Impala was accepted by the Make-A-Wish Foundation.
Now 19, Saenz and foundation volunteer Renee Rohl are still working to see the wish come true.
Rohl first became interested in Saenz's wish when she heard about it while attending a car show last year.
"I thought maybe I could help him," said Rohl, whose boyfriend works in auto body repair.
Rohl and Saenz have contacted body shops up and down the Yakima Valley, but so far to no avail.
The problem, they say, is that the Impala needs quite a bit of custom body work and not many shops perform that type of labor intensive work.
They still hope that Saenz's wish can be realized. If not, the foundation may have to look at granting a secondary wish, such as providing some of the parts needed to repair the car's exterior.
Rudy Sr. gave the car to his son 15 years ago with the hope of restoring it for him. But lack of time and finances have prevented that. "It would be great if Rudy's car could be fixed up," he said with a big smile.
Rudy Jr. is headed to California this summer to attend a course in custom auto body work and hopes to make it his occupation. He is offering to help with the work on his Impala.
For more information on his wish or to help out, contact Rohl at 509-945-4034.
Rohl, a Heritage University student, has helped seven children see their wishes granted as a volunteer "wish grantor" for the Make-A-Wish Foundation.
She hopes Rudy will be the eighth.
"It's really cool to see the wish being granted," Rohl said of the wishes she's seen fulfilled. "It's so special to see their expressions when they receive their wish."