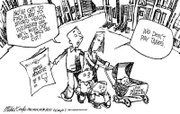 Remember your dad warning you when you were a kid that, "...the grass always looks greener on the other side of the fence, so be careful!"
Many who did not heed their father's advice plunged ahead, only to find that the grass on the other side had problems they could have seen, had they just taken the time to look before they leaped.
The same applies to health care reforms in our state. Right now, the embryonic "connector" model in Massachusetts looks pretty enticing to some key Washington lawmakers in Olympia. It looks good, but will it work?
Gov. Chris Gregoire and others are rightly warning state lawmakers to slow down and wait to see if it works.
The Massachusetts plan, which is only a year old, requires everyone to buy health insurance, just as every driver must purchase car insurance. It also requires employers who do not provide health insurance to pay into a fund to offset the costs of treating people without insurance.
In Washington, the new Washington Health Insurance Partnership (WHIP) would set up a statewide partnership, in which the state would be the "connector," a sort of stock exchange for people to purchase health insurance.
Sounds good, but a similar board established in Massachusetts to administer that state's plan is having all kinds of headaches trying to make it work. So instead of rushing into the same problems, our state legislators should let Massachusetts test this untried system with their tax dollars.
The Massachusetts plan is only a year old, but the problems are already becoming clear.
Originally, the basic insurance plan in Massachusetts was supposed to cost $200 per month. Already cost estimates have risen 50 percent to $300 a month - and the plan has yet to cover a single person. By waiting a couple of years, our lawmakers can learn what the true costs will be.
There is no reason to rush into untested territory. In a recent survey of Washington voters, 94 percent reported they had health insurance coverage, and 87 percent were satisfied with their plans.
That doesn't mean that Gov. Gregoire and the Legislature should do nothing. There are plenty of reforms already underway.
For example, last year Gov. Gregoire launched an evidence-based initiative to make sure treatments, medical devices and procedures actually work before the state includes them in their health plans. In other words, if something doesn't work, don't pay for it.
Earlier this year when U.S. Health and Human Services Secretary Mike Leavitt came to Washington, Gov. Gregoire, King County Executive Ron Simms, business leaders and health professionals signed an agreement to work together on incremental changes that will lower costs and cover more people.
The plan emphasizes prevention - promoting healthier lifestyles through exercise, better diets, quitting smoking, and reducing substance abuse. It also aims to improve patient safety by sharing patient data, so every hospital and doctor treating a patient have that patient's complete medical history, including allergies and medications. Finally, it promotes electronic record-keeping and billing to improve efficiency and accuracy.
In addition, legislators should support insurance plans that are already working to cover Washington's citizens. One example is association health plans. As a result of reforms authorized by Gov. Mike Lowry and lawmakers in 1995, these plans allow small employers, with two to 50 employees, to provide health coverage. Association plans have been a stunning success, now covering some 500,000 people. Almost 40 percent of the small businesses using these plans did not previously provide employee health insurance.
Finally, if we really want people to take more responsibility for their health costs, Congress should implement President Bush's recommendation to allow families to deduct up to $15,000 a year of their health care costs from their income tax. Today, unless families have a catastrophic illness, the federal medical deduction is meaningless.
A variety of incremental health care reforms are already underway in our state, so lawmakers in Olympia should look very, very carefully before they "leap" into an untested Massachusetts-like model that is already showing problems.
The bottom line? The "connector" bill being proposed in Olympia is premature and an unnecessary risk. Until we know more, lawmakers should go slow and build on what is working.
Don C. Brunell is president ofthe Association of Washington Business.