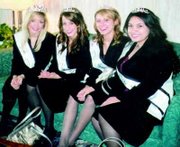 It's that time of the year again for the Miss Sunnyside Committee to seek out contestants for the next Miss Sunnyside Court.
There will be an informational meeting for young ladies interested in vying for the 2007-08 title on Monday, March 26, at 6 p.m., at the Masonic Temple located at the corner of Harrison Avenue and Sixth Street.
This will be a great opportunity to ask any questions anyone might have about the pageant and the duties expected of the court. Applications will be available at this meeting and at the school counselors' offices afterwards.
Prospective candidates should currently be sophomores at Sunnyside, Sunnyside Christian or PRIDE high schools. Each candidate must have a cumulative GPA of at least 2.8. Application deadline is May 5.
The Miss Sunnyside program, say supporters, is a great vehicle for young ladies in the Sunnyside community to get involved in leadership roles, gain community service experience and serve as junior ambassadors for the city of Sunnyside. This fun experience allows opportunities that may not otherwise be available, such as building and riding on the Miss Sunnyside float.
The Miss Sunnyside Pageant awards a $1,300 scholarship to Miss Sunnyside and each princess will receive an $800 scholarship. The contestant named Miss Congeniality receives a plaque and the Leo Lopez Memorial Scholarship, worth $250. In addition, this year, all non-finalists will also receive a $50 scholarship. Every contestant will receive a participation trophy.