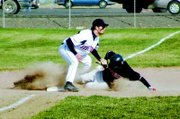 The opportunities were there, but the 3A Sunnyside High School baseball team couldn't take advantage in a 5-1 season opening loss to the 1A Riverview club from Finley.
The Grizzlies started well in the home contest, taking a 1-0 lead in the bottom of the first inning on starting pitcher Zach Marquez's double.
The Panthers responded in the top half of the second with a two-run rally. The surge could have been worse as Marquez had loaded the bases with nobody out.
Riverview pushed across three runs after that, all unearned, including two insurance runs in the top of the seventh. Riverview collected six hits and committed three errors in the contest.
Sunnyside had a chance to get back in the game in the bottom of the sixth, but left the bases loaded.
Coach John Gutierrez praised Marquez and reliever Cameron Boboth for a solid pitching performance.
Sunnyside committed four errors in the contest, accounting for the three unearned runs. Gutierrez attributed it to first game nerves and noted that Riverview already had four games under its belt.
"It's fairly typical to have some first game jitters," said Marquez. "So now we know what we have to work on."
At the same time, there were some fielding gems for the Grizzlies, as center fielder Nate Cornelius threw Riverview runners out at third and home.
Gutierrez also wants his team to improve its offense in preparing for this Friday's home contest with 4A Wenatchee.
"We struck out too much," he said. "It's early in the season but we need to hit the ball harder. We know we have to be more aggressive at the plate and make contact.