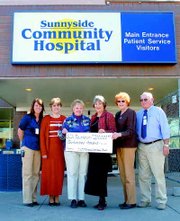 Work to expand Sunnyside Community Hospital's emergency department received a boost yesterday when it received a $200,000 matching grant from the M.J. Murdock Charitable Trust.
Trust representative Jan Kennedy said the check presentation represented a success for the hospital's foundation in meeting the two-to-one match.
"This means that through your community support you have generated $600,000 toward the completion of a much needed urgent care center for Sunnyside Community Hospital," Kennedy told the foundation. "We are delighted to be a part of your project and we wish you well for the future."
The mission of the M.J. Murdock Charitable Trust is to enrich the quality of life in the Pacific Northwest by providing grants to organizations that seek to strengthen the region's base in sustainable ways, including areas of health and medicine.
The M.J. Murdock Charitable Trust was created by the will of the late Melvin J. (Jack) Murdock, who was a co-founder of Tektronix, Inc, of Beaverton, Ore.
Since its establishment in 1975, the trust has focused its grant making efforts in five states of the Pacific Northwest: Alaska, Idaho, Montana, Oregon, and Washington.