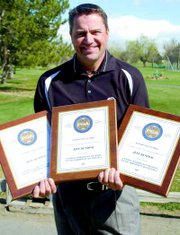 For the third consecutive year, Black Rock Creek Golf Course pro Jeff Bender has been recognized as a junior golf leader by the Central Washington Chapter of the Pacific Northwest Section PGA.
Bender's past experiences in encouraging youth golf include two years as the vice president of the First Tee of Columbia Basin, a group that helped students learn life lessons by learning golf.
Bender's involvement with that group includes a 100-hole marathon he golfs each summer to raise money for First Tee. "People pledge so much per hole, maybe a buck or five bucks," he said.
Closer to home, Bender's youth involvement includes an AAU golf program this summer for youth ages 8 to 18.
He said by having an AAU program available here, it will save parents time and expense of traveling out of the area.
The focus of the program will include teaching children the safety and etiquette needed for the game of golf.
In addition to local participation in the national AAU program, Bender will also participate in a local junior golf program during two weeks this June.
Bender said golf is one of the few sports where there is not a referee and a person has to have integrity in marking their own scores.
"It's the one sport that if you're a young child you're surrounded by adults and you have to act like an adult," Bender said.