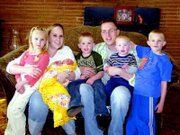 It's not easy being a soldier. It's even harder to be stationed in Iraq with a pregnant wife and four kids stateside, but Sunnyside native Casey Heckert has managed.
After all, his family is his retreat.
Heckert, who completed a tour in Iraq in 2004, was recently stationed at Ft. Hood, Texas and sent off to Iraq again.
Just before his deployment eight months ago, the family went on vacation. It was during that time, Casey says, that wife Sarah announced she was going to take a pregnancy test.
"We found out just before I left," says Casey.
Thankfully, Casey knew he'd get two weeks leave and that the Army would work with him as to when to take it. With an original pregnancy due date of March 19 in mind, Casey signed up for leave to come home and help Sarah through labor. But, the timing wasn't exactly right.
Because it was all dependent on the timing of little A.J.'s arrival, the Army extended his leave another week-he'd been slated to return to Iraq March 20.
"I've been there for all five," he says of the birth of his children. "I didn't want to miss any of it."
So how'd it go in the delivery room when A.J. made his worldly debut on March 16 at Sunnyside Community Hospital?
"It was an easy labor, it wasn't too bad," says Sarah.
"It was easier for me," Casey said jokingly.
But the pregnancy wasn't easy. Sarah developed placenta previa, which causes the placenta to cover the cervix, necessitating a C-section.
With Casey in Iraq and a potentially problematic birthing process, Sarah came "back home for help," leaving Texas to come stay with her sister in Sunnyside on Scoon Road.
What was it like for Casey, knowing Sarah was scared and he was in the desert? "You can't do anything about it," he says softly. "All I could do was talk to her about it."
Miraculously, the placenta moved completely out of the way, a rarity, Sarah says. She was able to give birth naturally.
Casey tries to contact Sarah at least once a day while in Iraq, whether it be through the phone or the internet. And he keeps his mouth zipped tight about what's going on over there. "She worries," he says again, softly.
A self-described military brat, Sarah knows the drill. Her father, Mike Ayling of Granger, served in the Army for 21 years.
But knowing the drill and facing real life challenges are two very different things.
During his 2004 tour, Casey and Sarah were on the phone and Sarah heard a loud BOOM followed by Casey's statement, "I've got to go now."
She didn't hear from him for a day or two. "I couldn't sleep," she said.
Casey's location had been mortared.
Coming home is weird for Casey. Sarah says he'll look around in awe and state that it's weird to see people smiling and not looking over their shoulders all the time.
She can handle this. He can handle this. As long as they've got each other and their loving family.
She adds, "It's so much easier when dad's home. At least it is for mom," she says, referring to she and her husband.
The wee Heckerts range in age from 7-years-old to six-days-old. Tyler's the oldest, then there's Rebekah. Ryan just turned four on March 19 and little Matthew is 16 months. And of course, there's wee A.J., whose dad was there to see his birth.
The eighth of ten children, Sarah comes from a large family. A.J.'s birth marks the 35th grandchild for grampa Mike and gramma Kim Ayling. Casey's mom, Dianne Garcia of Sunnyside, is now a grandmother thirteen times over.
Casey has to brace himself to go back next week for four more months. It's likely the kids will still be in bed when he leaves and not at the airport. Looking at their little tow-heads and blue eyes at the airport just might be too much.
Shoulders squared and with soldier like appearance, Casey says softly, "The hardest part is leaving my family." If you look closely, you can see that his eyes are misted over.