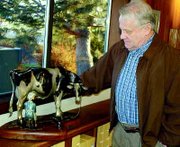 First there was pioneer cattleman Ren Ferrell, then Lloyd Miller, considered the driving force in bringing irrigation water to the Lower Valley.
Now a third bronze statue organized by the aptly named Bronze Society will be unveiled by the end of April or early May.
Like the previous two, the third life-size statue-called "Morning Chores" in depicting a pioneer girl milking a cow-will be placed in downtown Sunnyside to mark the city's heritage.
The statue, about five-feet tall, will be placed in a park-like setting across from The Funny Farm liquor store, near Fourth Street and Edison Avenue.
Sunnyside orthodontist Randy Schuler is the committee's president and said the locale for the statue is intended to tie in to Sunnyside's city park and Centennial Park.
The statue movement here originated with the city's centennial celebration in 2002.
The dairy statue, created by Sunnyside native Desiree Dawn, is currently being prepared to have color applied through a process in which different types of acid are applied to ensure the tones are permanent.
"The colors don't wipe off," said Schuler.
Speaking of color, the soon to be released statue will include colors such as blue in the young dairy girl's outfit and a two-toned cow.
"We didn't want the black and white to stand out too much," Schuler said.
Like the previous two statues, this one has been paid for through the sale of 20 bronze table-top replicas. Schuler said there are four more models remaining for sale at a price of $3,500 each.
The emphasis behind "Morning Chores" is to celebrate the contributions pioneer children made to Sunnyside's history.
"If the pioneer children hadn't done the chores, the pioneer families wouldn't have survived," said Bill Flower, a member of the Bronze Society.
The momentum for bronze statues in Sunnyside will continue beyond "Morning Chores," said Schuler.
The next one is planned to depict Outlook native and NASA astronaut Bonnie Dunbar as a young farm girl and as a space shuttle astronaut.
The Dunbar statue is very much on the drawing board at this stage, so for now the attention is focused on a dairy cow, a young girl doing her chores and a cat just waiting for a milk sample.
Flower said there were thoughts of having "Morning Chores" portray a child doing other farm chores other than milking a cow.
"Somebody thought about feeding chickens, but it would be hard to make a statue of that," he chuckled.