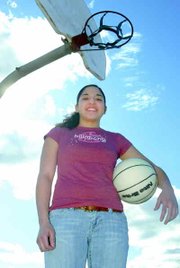 Sunnyside High School senior Vanessa Torbay has always wanted to be a basketball coach.
To graduate from high school here in Sunnyside, each student must do a senior project.
Torbay decided to combine the two and will host a girls only, ages third to sixth grade, one-day basketball camp Saturday, April 7, at the Sunnyside Community Center, located at 1521 S. First Street, from 1 to 3 p.m.
"I've always wanted to pursue a career in coaching basketball," Torbay explained. "Leo's (Gomez) my coach and a role model to me. I like the way he coaches so I decided to do my paper on coaching basketball."
Naming Gomez as her mentor, Torbay said she sat down with the former Sunnyside High School girls basketball coach and talked about what it would take to host a basketball camp.
"He's done camps in the past," she said.
Another deciding factor in Torbay's decision was her mother.
"My mom told me I could take the easy way out and do a job shadow on a basketball coach or I could go out of my bubble and do something I could be recognized for," she added.
With help from her coach and encouragement from her mom, Torbay chose to go outside the bubble.
The first thing she did was talk with Joan Niemeyer, recreation coordinator for the city of Sunnyside, and let her know of her idea.
"She thought it was a good idea and provided the gym for me," Torbay said.
Torbay then planned out the camp, made up fliers and then started handing them out and posting them.
She plans to teach the young girls the fundamentals of basketball, concentrating on improving individual skills in shooting the ball, dribbling, rebounding and passing. Each participant will also receive a tee-shirt commemorating the event donated by the Salvation Army in Grandview.
The event will cost $5 and all proceeds will go to the Children's Miracle Network in Yakima.
Torbay picked this organization to donate the money to because she is the coordinator for the coming Mr. SHS Pageant and money raised at this pageant will also be going to the Children's Miracle Network.
"I decided to try and raise some more money for them," she said.
Torbay will have help from teammates Marissa Gomez, Alisa Sanchez and Shana Zamarron and possibly other members of the Sunnyside girls basketball team during the camp.
What will she get from this besides completing her senior project?
"I get to do something on my own and make my own decisions," she said. "I'll be giving back to the community."