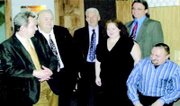 A group known as Sunnyside Friends of Bluegrass is bringing its favorite style of music here next Friday, March 30, in the form of Cedar Hill, a Missouri-based quintet.
John Top is one of the members of the Sunnyside bluegrass organization, and said he encountered Cedar Hill last year when his family bluegrass group, Top String, opened for them at a Tri-Cities concert.
Top said the idea to have bluegrass concerts here occurred to him when he went to a similar small venue performance last year in a Cashmere coffee house.
"I thought we should do something like that in our town," he said.
To that end, Bon Vino's will serve as the site for next Friday's concert, set to begin at 7 p.m. Doors open at 6 p.m.
Tickets cost $15 and are available in a limited number as there will be enough seating for only about 100 people. Tickets can be purchased by contacting Top at 839-6899, Randy Schuler at 837-7256 or at Bon Vino's, 122 N. 16 St. in Sunnyside.
Cedar Hill has won several awards, and Top says they play traditional Ozark Mountain bluegrass and gospel music featuring high tenor harmonies, acoustic guitar, banjo, fiddle and mandolin.
Songs in the Ozark style would include "Oh Death" and "Man of Constant Sorrows" popularized by the "Oh Brother Where Art Thou" soundtrack.
The bluegrass momentum in Sunnyside won't stop with next Friday's concert, as the local friends of bluegrass organization is working to bring Kentucky-based Bottom Line here for an outdoor concert during the second week of June.