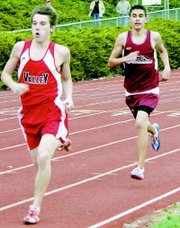 'HoPROSSER - The Grandview High School boys track team finished Thursday's four-school meet in Prosser with a second place showing and the girls came away with third place honors.
Brittnee Sanchez of Grandview continued to shine with three first place finishes during yesterday's meet against Prosser, East Valley and Connell.
Sanchez came out on top in the 1600-meter run with a time of 5:46.07 and was first in the 800-meter run in a time of 2:34.46. Sanchez's third victory was as a member of the 4x400-meter relay team. She and teammates Giovani Gomez, Krystal Martinez and Kealey Johnston gained first place honors with a time of 4:29.02.
"We still have a lot of athletes trying to figure out what events they want to do this year," said Grandview High School track coach Jared Lind. "Brittnee has had a great start to the year and looks to drop her times each week."
The Grandview girls team also saw 300-meter hurdler Jessie Reynolds finish her event in a respectable time of 51.09.
According Lind, Anna George of Grandview is the one to watch in the discus events. "She is one of the top discus throwers in the Lower Valley," he said.
George placed second with a throw of 124 feet, six inches during Thursday's events.
Prosser High School won the girls meet with 91 points and Grandview finished with a team total of 47 points.
Lind said, "Many girls had personal bests and made some impressive improvements from last Saturday's Toppenish Invite. It will be exciting to watch our young team improve each week."
The Grandview boys came away with 70 points for their second place finish. The Prosser boys won the meet with 102 points.
"A lot of personal bests and some impressive marks, especially Joe Babcock's triple jump were seen during this meet," Lind stated. He said Babcock's first place 43-3.5 triple jump will be one of the longest in 2A this early in the season.
The boys team's strongest finishes came from Storm Shea, who participated in the pole vault. Shea came away with first place honors with a vault of 10 feet, 6 inches.
Viano Perez of Grandview competed in the 400-meter dash. Perez completed the race in 55.64 seconds for a second place showing.
Teammate Jordan Sanchez also came away with second place honors in the 3200-meter run. He finished in 11:02.62 against his competitors. Sanchez competed in the 1600-meter run and achieved third place honors in 4:59.81.
Another second place finish came with Keagan Christansen's discus event. Christansen threw a distance of 124-4 in the event.
The boys 4x400-meter relay team rounded out the second place wins in 3:41.04. The team included Matt Concienne, Viano Perez, Jordan Murataya and Juan Razo.
Murataya was strong in the 400-meter dash, coming away with third place honors in a time of 56.19 seconds.
Concienne participated in the long jump event. His 19-3 jump garnered him a third place showing.
Another third place finish was achieved by Freddy Rodriguez. Rodriguez threw 42-0 in the shotput.
Overall, Lind was impressed with the Greyhounds' showing. He felt the team is showing great improvement and will continue to do well in later competition.
"We look forward to competing against Prosser in our first league meet next Tuesday," he said.