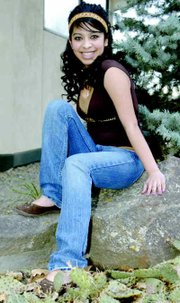 Rocio Ramos, a 16-year-old sophomore at Sunnyside High School, has always loved pageants.
"I've watched them since I was little," the 2007-08 Miss Cinco de Mayo hopeful said.
She said the Sunnyside 2007-08 Cinco de Mayo Pageant will be something new and different to her and is something she is looking forward to trying.
"I would like to represent my community and my heritage," she added.
To her the events that happened on May 5 so long ago shows leadership, determination and dedication.
"It shows size doesn't matter as long as you're determined," she explained.
If Ramos is named Miss Cinco de Mayo this year, she's narrowed her community service project down to two things - develop more activities for people with special needs or help the elders in the community.
In terms of developing activities for people with special needs, Ramos said, "We could have days where we could spend time with them. Make them feel less left out."
In helping the elderly, Ramos said, "There are some people without families and they don't have any people to visit with them." "I would like to change that."
She said she would like the Miss Cinco de Mayo court to go and visit the elders, read to them and do activities with them.
She named her mother as her role model.
"She's brave and determined," Ramos said of her mother. "She's shown me everything I know and has helped me improve as a person."
She also listed all of her teachers as role models but singled out Pete Marquez as her favorite. They're good examples for us all, she said.
Ramos maintains a 3.6 GPA and states her favorite classes are English and AP World History. She explained her teachers in those classes make the subjects interesting and fun to learn.
She is involved with the pep club at the high school.
"We help organize school games, put posters up and motivate people to come to the games," she said.
Among her hobbies is reading, noting the last book she read was Harry Potter and the Half Blood Prince. She also likes to go dancing, spend time with her friends and family, listen to all kinds of music and she shyly admits she likes to go rollerskating. She also likes to watch and work out to aerobic videos.
After high school Ramos plans to attend the University of Washington or Gonzaga University to pursue a degree in law. She hopes one day to become a lawyer and then eventually a judge.
Ramos said she will sing the song "My Heart Will Go On" by Celine Dion for the talent portion of the pageant.
She thinks she would make a good Miss Cinco de Mayo because, "...I know I'm able to get the job done," she said. "I'd be accurate, punctional and I would get the job that was asked of me done. I'm determined and dedicated and I won't let people down. I'll meet or exceed their expectations."