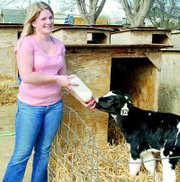 Judges will have two candidates to choose from for Dairy Princess when the Yakima Valley Dairy Women hold their annual competition on April 17.
Sunnyside High School juniors Alyssa Boogerd and Julie Wedam are contenders for the crown, and have become friends in the process, even going on shopping trips together to pick out their pageant gowns and talking about speech preparation.
Boogerd is the daughter of Jim and LaVonne Boogerd, who run the Circle B Dairy.
The combination of growing up on a dairy farm and in Dairy Princess circles made becoming a candidate for the crown a natural, she says.
Boogerd's mother, LaVonne, was the dairy women's 1981 princess and has been a long time volunteer with the Yakima Valley organization.
Boogerd said the experience of growing up on a dairy has "made me a harder worker and more responsible." She added, "It's helped me see it from a business side."
Wedam is the daughter of Mike and Sue Wedam. Her father is a bovine veterinarian and Wedam said her interest in dairy cows stretches back to her experience of joining her dad in tending to them at farms around the Valley.
"I grew up around dairies," she says. "I feel qualified to represent the dairy industry because I have grown up around it in various forms."
Besides her enthusiasm for the dairy business, Wedam is also active in other ways, including drama, band, dance and swimming.
They may have different backgrounds and experiences, but Wedam and Boogerd share more in common than a desire to be the next Dairy Princess for the Yakima Valley.
Both are multiple 4-H and fair award winners for showing livestock and both in one way or another will be active with the princess program, regardless of who wins.
That's because the girl who isn't selected as dairy ambassador will be an alternate and participate in some of the activities associated with the crown.
The two girls also share in common a similar motivation for seeking the crown-sharing insights into the dairy business with younger children.
"I want to represent my community and tell the younger students about dairy products and why they are important," says Wedam, who says she hopes to lead students on tours of some of the local dairies.
"I want to explain to the children how important the dairy industry is. It provides jobs," notes Boogerd. "I want to let them know that it's not about three-a-day milking."
Regardless of who judges select to receive the Dairy Princess crown, both Boogerd and Wedam are winners according to Carol VanSlageren, president of the Yakima Valley Dairy Women.
"I think they're both very well prepared, having shown dairy animals and worked around dairy situations," says VanSlageren.
The April 17 banquet to announce the next princess will be held at the Sunnyside Community Center beginning with dinner at 6:30 p.m. Tickets are $25 per person and can be obtained by calling VanSlageren at 509-854-2607.
The newly selected princess will begin her reign right away, while the current Dairy Princess, Tashia Daniel, will vie for the title of the Washington State Dairy Ambassador this June.
VanSlageren is confident that whoever is selected to next wear the Valley crown will do a good job.
"Both are very outgoing," she said of Wedam and Boogerd. "Whichever one is chosen will be a great representative of our industry."