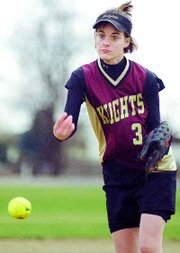 A dazzling pitching performance by Tori Van Wingerden in the opener and a five-hit performance at the plate by Brittany den Hoed in the nightcap propelled the Sunnyside Christian High School girls fastpitch softball team to a pair of wins over visiting Lyle last Friday.
The 11-1 and 21-15 victories came in Sunnyside Christian's Greater Columbia 'B' League openers.
In holding the Cougars to just one run in the opening game, Van Wingerden limited Lyle to just three hits. In going the distance atop the pitching rubber, Van Wingerden set 10 Lyle batters down on strikes. She walked only four.
The senior hurler, said SCHS Coach Sandy Harris, received plenty of defensive help from her teammates in the opening game, noting the Lady Knights committed just one error.
"And that one error was just a bobble," said Harris. "We have a young team, but they're capable of playing very good defense."
Offensively for the Lady Knights in the opener, Leah Bosma and Abby Bangs led Sunnyside Christian's 13-hit attack. Both girls went 3-for-4, combining for three RBI. Melanie Van Wingerden also had a multi-hit performance, going 2-for-4. Naomi den Hoed contributed, too, driving in a pair of runs on a 1-for-3 effort at the plate.
In Friday's twin bill finale, it was the senior Brittany den Hoed who sparked the Lady Knights to the 21-15 victory. She blasted five hits in five trips to the plate, scoring five times in the process. The senior also stole four bases and drove in two runs, coming through with a triple in the fifth inning to match the triple she socked in the fourth inning of the opening game.
The nightcap could have easily gone Lyle's way, considering the Lady Knights gave up 16 walks to the Cougars and committed six errors in the game. However, Lyle made seven errors of its own and yielded eight walks, all while giving up 13 hits to Sunnyside Christian.
"We gave up too many walks and made plenty of mistakes in the field, but the girls wanted this one," said Harris. "They found a way to get it done with their bats."
In addition to den Hoed's 5-for-5 performance at the plate, Sunnyside Christian got a combined five hits from Tori Van Wingerden and Jacqui Roberts, and a 3 RBI effort from Jamie Sveen.
Sunnyside Christian (2-0, 3-2) is scheduled to play a non-league doubleheader at Kittitas this Tuesday, and will return to league play this coming Friday with a twin bill at LaSalle.
First Game
Lyle 0 0 0 0 0 1 -1 3 4
SCHS 0 3 0 4 2 2 -11 13 1
Kristin Stanovich (3 K's, 4 BB's) and Jessica Struck; Tori Van Wingerden (10 K's, 4 BB's) and Melanie Van Wingerden. SCHS: Leah Bosma 3/4, 1 RBI, 2 SB; Abby Bangs 3/4, 2 RBI; Melanie Van Wingerden 2/4; Naomi den Hoed 1/3, 2 RBI.
Second Game
Lyle 0 4 4 4 0 3 0 -15 8 7
SCHS 7 2 0 1 6 5 x -21 13 6
Kristin Stanovich (1 K, 8 BB's) and Jessica Struck; Hillary Bosma, (3) Tori Van Wingerden and Brittany den Hoed. Lyle: Joelle Jackson 3/4, 1 RBI; Kristin Stanovich 2/4. SCHS: Brittany den Hoed 5/5, 5 runs, 4 SB, 2 RBI; Tori Van Wingerden 3/6, 3 runs; Jacqui Roberts 2/6, 3 RBI; Jamie Sveen 1/4, 3 RBI.