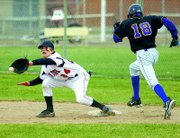 4A Wenatchee proved too much for host 3A Sunnyside last Friday, sweeping the Grizzly baseball team 17-1 and 12-0.
Coach John Gutierrez said about eight of Wenatchee's runs in the opener were earned off the pitching trio of Gibby Briones, Sef Amaro and Tristan Abbott.
"We were in the ballgame, competing pretty well," Gutierrez said. "But then the kids got down a little bit and it's contagious."
The Grizzlies trailed just 3-0 after four innings and 7-0 heading into the decisive, and final sixth inning, when Wenatchee plated 10 runs to put the contest away.
The big story for Sunnyside in game one was Briones, who surrendered just one earned run in three innings of work, while striking out six Wenatchee batters.
"He was spotting the ball real well," Gutierrez said of Briones' arsenal, which includes a fastball, curve and change-up. Briones, like all of Sunnyside's pitchers, is on a limited pitch count during the early season non-league games, such as Friday's twin bill against Wenatchee.
In another bright spot for Sunnyside, Abbott broke up a no-hit bid in the bottom of the sixth with a lead-off single and came around to score following two walks and a hit batter.
In game two, Sunnyside's pitching and defense kept the game closer in a 12-0 loss called after five innings.
Wenatchee chipped away at the Grizzlies with at least two runs each in four innings. "They bunt the ball very well and that put pressure on our defenders," Gutierrez said of the three unearned runs Sunnyside surrendered.
"I kind of felt like we picked ourselves up a little bit in the second game," the coach said.
Robert Snyder took the hill for the first three innings for the Grizzlies, and freshman Victor Nunez mopped up with two innings of solid relief pitching.
"Victor showed he belongs at the varsity level," Gutierrez observed. "He hung in there and threw a lot of strikes."
As with game one, Sunnyside struggled at the plate in game two, as only Nate Cornelius and Tim Taylor could muster a hit. While his Grizzlies need to keep working on swinging the bat, Gutierrez also praised Wenatchee's pitching in handcuffing his young batters.
Sunnyside (0-3) plays its league opener this Tuesday, March 27, at home against Hanford.
"Right now we're still building, we're still getting to know each other," said the first-year coach. "We'll talk about what we did right, and we'll learn from our mistakes and try to improve."