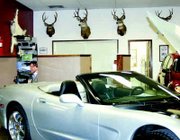 GRANDVIEW - After years of mulling it over, Grandview business owners Rick McLean and Gary Christensen have finally become partners at Mid-Valley Chrysler, Dodge and Jeep.
"We had talked about it for quite a few years and the timing happened to be right to match our two corporate strengths together," McLean said.
"I'm really excited to have Gary as a partner because with his successes that he's achieved, I believe Mid-Valley has the opportunity to expand. Not only in customer service, but even to improve in customer satisfaction," he added.
McLean said that the partnership will facilitate a much wider stock of vehicles and vehicle equipment. "Basically, we'll be able to take the auto industry to a whole new level," he said.
Christensen said the partnership will allow the two friends to capitalize on each other's "synergy."
Said Christensen, "Hopefully, we'll be able to do things that will add additional fun and excitement."
Already, several of Christensen's animal mounts have recently been added to the showroom.
Christensen said he's had several suggestions to give the showroom an almost museum like feel for the numerous animals the sportsman has had mounted from various parts of the world.
"We want to make some really cool displays so people can see some animals from different parts of the world that they normally wouldn't have the opportunity to see," said Christensen.
McLean already had some animal mounts of his own, as well as a few pieces on loan from Christensen, who jokes that at least he didn't have to buy another home to display them all. Instead, he bought into McLean's existing business.
The two men have high praises for each other.
"Rick and I've been friends for a long time. I was just tickled when they came and moved to Grandview. They (Rick and wife Vicki) have been a very good example of people who come to live and work in this area," said Christensen. "They work to support whatever is happening in the community (at any given time)," he added.
Said McLean of Christensen, "Of all the people I know, Gary's one of the people that walk the walk."
The men would like to see the business grow to the point of having about 175 cars in stock. They would also like to expand into featuring RVs, boats, trailers and motorcycles.
"We want to make it a one-stop shop," said McLean.
"Combined, we have tremendous buying power," added Christensen. "We want to pass that on to the customer."
Lynda Jo Gross/Daily Sun News
Now that Gary Christensen has become a partner at Mid-Valley Chrysler, Dodge and Jeep, his animal mounts line the showroom behind a Corvette. Christensen and McLean agree that between the two of them, they'd like to increase stock at the dealership.