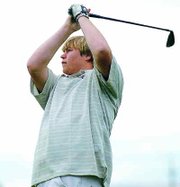 Unable to field a full team at the CWAC league opener at Black Rock Creek yesterday, the Grandview High School boys golf team finds itself in the cellar of the conference standings to start the 2007 spring campaign.
The three-team league match went Prosser's way, as the Mustang linksters compiled a 353 team score. Toppenish was 18 shots back with a 371, despite Wildcat senior Adam Story earning medalist honors with a 6-over-par 78.
In coming out on top yesterday, Prosser had two golfers card rounds in the mid-80's-Mark Hancock and Tommy Contreras with an 82 and 86, respectively. The Mustangs also got a 92 and 93 from Jarred Leighty and Nick Boydston, respectively.
"Prosser doesn't have anyone that can go really low, but they have five or six golfers who can all shoot in the mid-80s and low-90s," said Grandview Coach Dave Uggetti. "From a team standpoint, they're going to be very tough this year."
Individually speaking, the senior Story from Toppenish looks to cap his prep career with a fourth straight trip to State. He won medalist honors yesterday by a four-stroke margin over his closest competitor. The Wildcats' second low scorer was Seth Blackeagle, who carded an 86. No other Toppenish golfer broke 100.
Grandview, with only three golfers eligible to compete Monday afternoon because the three other members of the team had academic issues, was led by senior Chad Larson. The hefty, 6'2" golfer toured the front nine with a 55, shaving five strokes off his score on the back side for an overall 105.
"Chad was hitting some pretty decent tee shots, and he was pretty happy with his approach shots," said Uggetti.
Kyle Womach was the second low scorer for the Greyhounds, absorbing a 115 on front and back nine scores of 55-60.
Womach golfed in the No. 1 slot for the Greyhounds, but at times appeared out of his element, said Uggetti. "It can be a little intimidating when you're in the first group, golfing with the other schools' number one golfers.
"Hopefully, he learned that you pay attention to your game and not let what the other kids are doing affect you," said Uggetti.
Womach's undoing came early on, as he recorded a 10x on the par-3, 210-yard second hole, thanks to a shot that wedged the ball up against the lip of the green-side bunker.
"He could have taken an unplayable lie, but he tried to hit it out of the trap," said Uggetti.
Rounding out the scoring for the Greyhounds yesterday was a 132 by Jade Parker (72-60).
The Grandview boys are back in action this Thursday at a West Valley High School-sponsored invite at Yakima's Apple Tree Golf Course. The following day (Friday), the Greyhounds will host a 20-team invite of their own at Sunnyside's Black Rock Creek Golf Course.
&nbsp