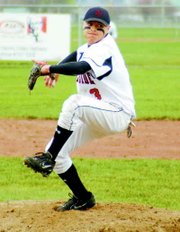 The Sunnyside baseball team had a good hitting day in game one, and scored the most runs yet this season in game two, but it wasn't enough yesterday in 7-0 and 25-3 home losses to Hanford.
Starting pitcher Gibby Briones gave the Grizzlies five innings of solid work in game one, but Sunnyside couldn't put enough of its seven hits together to rally against the Falcons.
"We had one or two chances to score, but their kid pitched pretty well in scattering the hits," Coach John Gutierrez said of Hanford's pitcher.
Briones was 2-for-3 at the plate in the opener, collecting a single and triple.
In game two, Hanford opened with a five-run outburst in the top of the first inning, before Sunnyside put together the most runs it's seen all year.
The Grizzlies pushed across three runs in the bottom of the first without a hit, as a combination of walks, errors and stolen bases plated the runners.
The Falcons built the lead from that point, going up 14-3 heading into the fifth, when an 11-run surge slammed the door shut on any Grizzly hopes.
"The wheels just came off," said Gutierrez. Hanford collected 25 hits in game two, and Gutierrez described them as "little dinks here and there."
Sunnyside was down to its last out in the fifth and final inning of the shortened game, when Sam Bardell broke up a no-hit bid with a single off the Hanford pitcher.
Though Sunnyside (0-2. 0-5) was swept in the league twin bill, there were some positive signs, such as Briones' pitching and a stellar play early in game two when catcher Zach Marquez caught a relay throw barehanded and tagged a runner out at the plate.
In preparation for another league contest this Friday at West Valley, Gutierrez told his team "find something that you think you can improve on, find something that you think you did well, and go from there and learn."