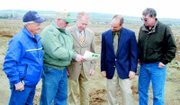 The Port of Sunnyside's Edison Business Park notched another success yesterday as port commissioners announced the sale of 2.5 acres for a medical clinic.
Drs. David Swofford and Harlan Halma bought the property, on East Edison, near Highway 241, for $100,000 and hope to break ground on a new clinic in about six months.
Halma said the new clinic will give their practice three times as much clinic space, and provide for the addition of more doctors in the future.
"We need to attract more providers to the Sunnyside area," Halma said. "It's growing."
The existing clinic on Lincoln Avenue will become the home of a satellite clinic. Halma estimates the expansion will bring between 12 to 16 new jobs to Sunnyside.
Halma praised the port's vision of a business park on the 100 acres or so it owns on East Edison. "We're real excited with what's happening there," he said.
Among previous projects built or planned for the area are a beauty academy and a vocational technical center.
Both Swofford and Halma are Sunnyside natives and practice general, family medicine at their clinic.
As part of the new clinic construction, the port will construct roads and install water, sewer, sidewalks and utilities to serve the new facility and provide the basis for more development in the business park.
It's estimated that the infrastructure improvements will cost $575,000 and the port has applied to Yakima County's Supporting Investment in Economic Development (SIED) group to help fund the infrastructure project. The request is for $450,000 which, if approved, will be half loan and half grant.
The port has also entered discussions with the city on ways it may participate in the project.
For now, though, focus is on moving forward and breaking ground on the new clinic this July or August.
The East Edison deal marks the second land sale for the Port in the last six months, as a Kennewick industrial supply company recently purchased land off of Midvale Road to expand to the Sunnyside area.
Development and expansion is what drove the port to originally purchase those lands in the first place, says Port Commissioner Arnold Martin.
"We're very excited," Martin said. "It looks like this is going to be the year when things happen."