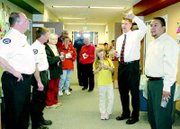 OUTLOOK - Students and staff from Outlook Elementary School thanked firefighters and Red Cross members yesterday (Tuesday) with refreshments and a walk-through of the newly renovated fourth and fifth grade wing.
Robert Bowman, principal of Outlook Elementary School, thanked the people for showing up, which included firefighters from Sunnyside, Outlook, Union Gap and Yakima County Fire District #5, all who helped fight the fire last December 17.
Bowman also thanked Northwest Restoration, a company in Richland that helped with the extensive clean-up since the day after the fire, plus all of the contractors, plumbers and electricians that got things back in order within three months.
Corky Wilcox, an employee of Northwest Restoration, explained a little of what they did.
"We cleaned every inch of rooms and lights in a very detailed way," she explained. "We removed the smoke odor and film so the kids could have clean air to breath."
She said some equipment was taken to Richland where it was cleaned.
"I like it better than before," Bowman said. "It's the same design but the decor is different, which is nice."
Bowman took spectators on a tour of the renovated wing, which looked brand new. He showed one classroom, belonging to Miss Bos, and which was one of the hardest hit rooms. The pre-school classroom looked as though there had never been a fire.
The old gym and the cafeteria are still ravaged by the fire damage, but Bowman is hopeful the cafeteria will be completed by next September when school starts after summer break.
With no cafeteria for the students to use, they are forced to eat lunch in their rooms, which wasn't a problem for fifth-grade student Oswaldo Valdez.
"We like eating in our rooms, we get to watch TV," he said.
Another fifth-grader, Vanessa Cornwell, said the students helped out with the clean-up as much as possible.
"We picked up debris outside and would help the contractors when we could," she said.