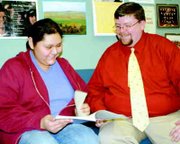 She missed the last few months of her freshman year in high school and all of her sophomore year to battle cancer.
Yet Sunnyside High School senior Starla Robledo will graduate with her class this spring.
Robledo was diagnosed with Hodgkin's Lymphoma at the age of 13, and has endured chemotherapy and radiology treatments that have caused her to be extremely sick.
She still has two small nodules from the lymphoma, but Robledo said recent treatment has reduced them from "the size of a small orange to a pencil eraser."
She still needs to take a trip for tests to North Star in Yakima every two months, but Robledo is looking toward the future, including graduating with her class.
"I'll have a big thumbs up and say yeah, I did it," she said of the day when she receives her diploma.
Robledo is the first to tell you that she isn't doing it alone, praising the help and encouragement she has received her mother, Nora Nunez, as well as father and stepmother, Ted and Shana Robledo.
She also praised the work by Sunnyside High School administrators in making available credit retrieval programs.
"It's determination," she said of what got her through those months when she missed school. "I've always wanted my family and teachers to be proud of me. Without them I probably wouldn't have gone this far."
One of Robledo's teachers, British Literature teacher Eric Sylling, expressed some of that pride.
"She's doing a fantastic job," said Sylling, who selected Robledo as a student of the month for February. "Starla never complains, she never makes excuses or lets those things keep her from being successful."
Robledo is planning to continue that success in college, attending two years at YVCC and finishing up at the University of Washington in law studies.
"I always wanted to be a lawyer," she says with a big smile.
As excited as she gets in thinking about graduation, Sunnyside High's shining Starla lights up even more when talking about attending the UW in Seattle.
"I know that area so well!" she says. "It's like down the same street as Children's Hospital (site of some of her early cancer treatment).
Other students at the high school have gained encouragement from Robledo's example, said Sylling. She also took a few moments between classes the other day to share her suggestions for overcoming adversity in reaching educational goals.
"Never give up," she says. "Try your hardest. Things out there will try to knock you down, but no matter what you have to try your best."
Robledo is not only an inspiration to classmates, but to high school staff as well.
"We think that she's just a joy to work with," says assistant principal Heidi Hellner-Gomez. "We're glad to have her here."
They won't have this rising Starla for long, because she has her eyes set on higher goals, higher education, after graduation.