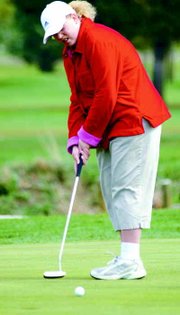 Thanks to Kennewick not being able to field a full squad yesterday, the Sunnyside High School girls golf team didn't bring up the rear in Tuesday's 3A Columbia Basin League seven-school match.
Hosted by the Lady Grizzlies at Black Rock Creek Golf Course, Sunnyside placed sixth in the league POD competition. The Lady Grizzly linksters shot an aggregate 676.
The low scoring team in yesterday's league match was Eastmont with a 363. It was the Lady Wildcats' second league victory in as many conference competitions this season. Eastmont was led by Moni Graf, who fired a 12-over-par 84.
Sunnyside's low scorer was senior Vicki Castro. In last week's league opener at Kennewick's Canyon Lakes Golf Course, Castro got around the difficult course with a respectable 115. On her home course yesterday, though, Castro's score ballooned to a 151.
"Driving the ball was a problem yesterday for Vicki," said SHS Coach Gary Rohde.
The Lady Grizzly team score yesterday was rounded out by Tonnelle Driesen's 168, Hannah Vlieger's 175 and Gabby Gutierrez's 182.
For Gutierrez, said Rohde, it was her first ever competition. He also noted that Driesen's score was two strokes less than what she carded at the Canyon Lakes league match last week.
Sunnyside's girls will be out of action until Monday, April 9, when they are scheduled to play their third league match of the season at the Tri-City Country Club.