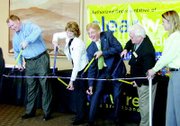 YAKIMA - Do you ever get tired of the wires that connect your computer to the internet? Have you ever wondered about receiving internet service when you have been traveling?
There is a company that has come up with a solution for Lower Valley residents. Clearwire Wireless Broadcast officially launched its wireless high-speed internet services yesterday, March 27, in Yakima at the Yakima Chamber Business Expo at the Yakima Convention Center.
"This is our official commercial launch or 'coming out party'," said the general manager for the company's Yakima Valley area, Bill Dochnahl.
He stated the company currently serves 40 markets and approximately 350 cities in the U.S. It also can be found in four other countries.
"What is unique about us is the wireless unit is truly wireless. You just need to plug the unit into your Ethernet port and a power source. There are no cables, no dishes, no other wires to plug in," according to Dochnahl.
The company's founder, Washingtonian Craig McCaw, also founded companies such as Nextel and CellularOne. "He is a pioneer in the wireless industry," Dochnahl said.
Clearwire's corporate headquarters are in Kirkland. They have expanded their services from the Tri-Cities to Prosser and from Yakima to Selah and most recently to Grandview. "We just went online in Grandview today," commented Dochnahl.
He said the wireless unit is extremely portable. It can be taken with its owner wherever service is available and connected to any computer with an Ethernet port.
"We distinguish ourselves in that the product is absolutely secure. We own our license. We operate using a license spectrum, eliminating traditional cable, phone lines or satellites," Dochnahl explained. "Traditional Wi-Fi providers do not offer this kind of security and our security allows for online transfers to take place with little to no worry."
"There's also no installation requirement," he noted.
Dochnahl also explained Clearwire's rates as being relatively inexpensive. He said customers can get a 1.5 megabyte unit at a service cost of $36.99 per month and a 768 kilobyte service for $29.99. "Customers will get their first three months for $19.99," he added.
Yakima Mayor Dave Edler and Greater Yakima Chamber of Commerce President and CEO Mike Morrisette were also present for the next generation wireless internet service's official launch.
"We're happy to commemorate their arrival," said Morrisette.
"I, too, want to welcome Clearwire to Yakima. I am pleased they have chosen to be here and it's amazing how technology changes," Edler stated to the audience.
The celebration was concluded with a cable cutting ceremony, "The cable cutting ceremony is what we do instead of a ribbon cutting ceremony," explained Dochnahl to a laughing crowd.