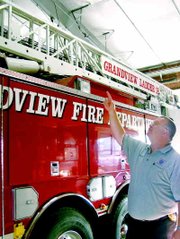 GRANDVIEW - The Grandview Fire Department has been awarded a $93,000 FEMA grant to install a vehicle exhaust extraction system at the station house.
According to Fire Chief Pat Mason, the new system will remove exhaust particles to the outside of the building while trucks are running.
"It's a safety issue," Mason said, adding that, over the years, the particulates the diesel engines put out have been known to cause cancer and other diseases.
And, he added, it reduces the effectiveness of the turn-out gear the firefighters wear when they go out on a call.
"The gear is designed to offer the most protection when it's clean. The exhaust particles on the fabric cut down on the ability to provide protection," Mason said.
He said studies also indicate that exhaust particles can also get inside of radios and computers and cut down on the life-expectancy of those items.
Mason is pleased with the federal grant, of which Grandview will have to match about $5,000. He said he's grateful to Congressman Doc Hastings and Senators Patty Murray and Maria Cantwell. "They're the ones that keep that program (FEMA) running.
"The whole FEMA program has been a real benefit to a lot of fire departments, especially with the way budgets are going. A lot of this stuff could never be done," said Mason.
Bids are expected to go out as early as next month for installing the exhaust system.