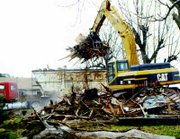 The top priority was just to get the building torn down, a dilapidated fixture near the Sun Terrace Assisted Living and Retirement Community in Sunnyside.
"We just wanted to make the neighborhood look nicer because it kept getting graffiti on it," said Don James, Sun Terrace general manager. "We wanted to keep the kids from spraying it."
But the demolition, which took place this past Monday, may open the way for new development.
"We're looking at the possibility of putting a memory care facility there, a potential Alzheimer unit," said James, who noted there is no facility between Yakima and the Tri-Cities that addresses the security issues for caring for Alzheimer's patients.
James says he's trying to get Sun Terrace's owners, "the powers that be", to look into developing a memory care facility.
"They'll probably be making a decision in the next few months," he said. "There's also the possibility of retirement housing."
If the decision comes down to build the memory care unit, James exclaimed with a chuckle, "We'll sure be on the phone to let you know about it!"
&nbsp