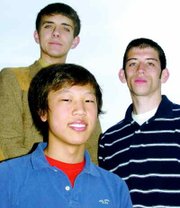 Three Sunnyside High School students have been selected to participate in the American Legion Boys State conference in Ellensburg.
Jonas Linde, Matt Barr and Anthony Kim will trek to Central Washington University this June to learn the inner workings of civics and citizenship.
"It's about trying to expose our student leaders to hands-on government," said Mike Miller, Chairman of the local American Legion Boys State Committee.
Miller said that raising awareness about the opportunity is usually challenging.
That's not the case this year.
"In this class, we had three that popped up without any encouragement from us. I thought that was exceptional," he said.
"We have a good crop of kids. They're excited about the opportunity and that excites me," he added.
Kim said that he heard about it from Barr. "I've been interested in politics and government, especially with the presidential candidacy coming up," Kim said.
For Linde, his father has gone to Boys State, as has his siblings. "They all said it was a positive experience. I've always had an interest in government and politics so I thought this would be right up my alley," Linde said.
Barr said of his interest, "I thought it would be great to see what it'd be like to change the world around me."
When it came to selecting Barr, Kim and Linde, Miller said, "We try to pick some of the brightest kids who have an interest in government and expose them to the workings of government."
While there, Linde, Barr and Kim will listen to political guest speakers, run for mock offices and participate in mock trials, Miller said. "It's just a real hands-on learning experience," he added.