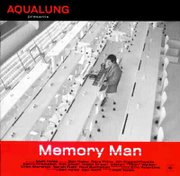 There are a lot of things wrong with this world. The War in Iraq, the Israeli/Palestine conflict, my salary, and now we can add one more thing, the album Memory Man by Aqualung.
There are a lot of CDs I could have reviewed this week. David Bowie's Reality, Kill Radio's Raised on Whipped Cream, A Tribute to the Ramones We're a Happy Family and Pete Yorn's Live from New Jersey.
Instead, I had to review Aqualung's Memory Man, one of the most boring and slowest CDs I've ever had the displeasure of listening to.
This is the fifth album from the band hailing from Britain. The band consists of Matt Hales, who sings and plays everything from the piano, the harmonium (whatever that is), echo choir and the pretend Orchestra. What!
Kerry Frampton, Robin Green, Alistair 'Twitch' Walker, Jim Copperthwaite, David Price, Paul Buchanan, Oren Marshall, Sarah Field, Ben Hales and Kim Oliver back Hales.
There are 11 songs on the CD and a person has to wait until song number eight, Black Hole, before anything that resembles a song appears. The lyrics are intriguing, much like those from the great band, Modest Mouse, but fall far short from their league. Black Hole is definitely the hardest rocking song on the album and that isn't saying much, as Aqualung is known for its catchy love songs. The song is much faster than the others and there is more of a drum sound than the normal piano crud on the first seven songs.
By the end of this song I was excited I only had to listen to three more songs and it would be over.
Song number nine, Outside, isn't too bad. It starts out with strong vocals and is the best song on the album but I would change the radio station if I heard it while driving in the car.
Song number 11, Broken Bones, returns to the first seven songs of too much piano and sappy, slow love songs. This CD is so boring and the songs sound so much alike, it makes it very hard to listen to.
The guys are talented; they just waste their gifts on music that belong in shopping malls or elevators. I would definitely stay away from this one.