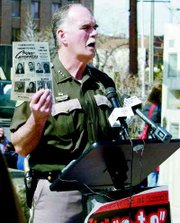 Someone, somewhere, knows something. That's the premise behind an intense Crimestoppers campaign set to take off next week.
Crimestoppers has reached out to area media in the form of print, television and radio broadcast in an effort to catch Yakima County's most wanted felons.
"It's all about holding people accountable," said Crimestoppers Board of Directors President Mark Peterson. "This is a good time to take the program to a whole new level."
Crimestoppers is a non-profit organization that pays out rewards to individuals that offer tips leading to the arrest of wanted felons. To date, Crimestoppers has paid out a staggering $78,525 for information about criminal activity, which has led to 712 felony arrests.
All this from 2,678 phone tips.
Crimestoppers allows people to phone in information pertaining to crime with complete anonymity and without going through a law enforcement agency.
The program is in full force from the Naches/Tieton area clear down to Grandview. Crimestoppers pays out up to $1,000 for information leading to a crime. How much is paid out is based on a fee that relates to the seriousness of the crime.
The program isn't all about wanted felons, it's also utilized to solve a mysterious crime.
The first television ad that will run features an arson in Yakima that occurred in February.
"We're trying to be as creative as possible in getting the word out," said Peterson. "There are people out in the community (county wide) that are really trying to help make a difference without increasing taxes."
Peterson said it's important to note that Crimestoppers doesn't rely on state, county or tax dollars.
Crimestoppers' effectiveness has dipped a little over the past two years. But the new campaign is likely to change that.
By increasing public awareness, Peterson believes the numbers of captured criminals will soar. "We think we'll probably come close to doubling (the 78 caught last year)."