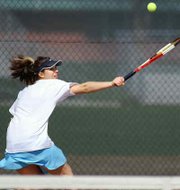 Former 4A power Kamiakin was too much for the Sunnyside tennis teams yesterday in taking a 5-2 win over the girls and a 7-0 win over the boys.
Kamiakin, now a 3A Columbia Basin League foe for the Grizzlies, lost only one set in boys singles competition. Mitchell Sanchez, Jacob Kresse and Jon Martin all fell 6-0, 6-0 for Sunnyside in their respective singles matches. The Grizzlies' Matt Johnson lost 6-0, 6-1.
In boys doubles play, Sunnyside's Hunter Van de Graaf and Jake Wavrin rallied from a 4-0 deficit to win the first set before falling 4-6, 6-0, 6-1.
Tyler Carpenter and Justin Snyder of Sunnyside lost 6-1, 6-1, while teammates Osvaldo Alvarez and Jorge Pacheco lost their doubles match 6-1, 6-0.
There a couple of bright spots for the Sunnyside girls, as the Lady Grizzlies' Nikki Hernandez won 7-6, 4-6, 12-10 in a super tie breaker.
"Nikki was a little more consistent," Coach Troy Whittle said of the difference between the two close competitors. "She kept it in a lot more."
Sunnyside's other win came when Jessica Gonzalez and Elvira Chiprez received a forfeit in their doubles match.
In singles action, Sunnyside's Vikina Pavlova lost 6-3, 6-3 after leading early in both sets. Teammates Regina Mendez and Madonna Gonzalez lost their respective matches 6-0, 6-0 and 6-1, 6-4.
In other girls doubles, Hannah Paulakis and Gayle Hansen of Sunnyside lost 6-2, 6-1, while teammates Jamie Zijlstra and Cindy Gudino lost their doubles match 6-0, 6-3.
The losses dropped the Sunnyside girls to 1-2 in league play and 1-5 overall, while the boys are 0-3 and 0-6.
In JV tennis, the Sunnyside girls earned a 3-3 tie and the boys lost 6-0. Both JV teams now stand at 1-2-1 on the season.