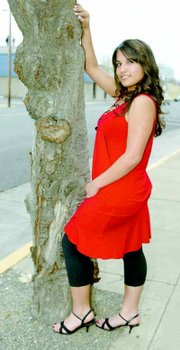 For a lot of Hispanics in both Mexico and the United States, Cinco de Mayo is a very important day celebrating their heritage and accomplishments.
Throughout the years here in Sunnyside, the Miss Cinco de Mayo Pageant has inspired hundreds of young ladies and that is why Cecilia Cienfuegos, a 16-year-old junior at Sunnyside High School, is vying to become the 2007-08 Sunnyside Miss Cinco de Mayo.
She's already had the experience of being a role model to her four younger siblings and now would like to pursue a greater responsibility by becoming the 2007-08 Sunnyside Miss Cinco de Mayo.
"I want other kids to look up to me like I looked up to them (Miss Cinco de Mayo court)," she explained.
If she is named the new Miss Cinco de Mayo, Cienfuegos wants to work with the Sunnyside Recreation Department for her community service project.
"I would like to work with them to create recreation programs to give low income families an opportunity to have their children participate in," she said.
The type of programs she spoke of include sports, arts and crafts and summer playgrounds. These programs are already offered through the recreation department but she would like to get more low income families involved.
"These programs helped me dramatically," Cienfuegos admitted.
She said she was on a path that could have taken her down the wrong road, but thanks to the programs offered at the Sunnyside Community Center, she was able to pick the right path.
"I would like to give back to the community what the community has already given to me," she added.
Her own role models are her grandparents.
"They've always been there for me and have given me advice that they would take themselves," she said. "They've never given me false hopes but have been straight and forward with me."
She also considers her mother as one of her role models. Cienfuegos said her mom has come a long way in her life, raising five kids and willing to help out anyone.
She said she has a 3.43 GPA in school and her favorite classes are strength training and chemistry. Cienfuegos said chemistry is really fun for her and she's made great strides in her strength training, maxing out at 135 lbs. in the bench press.
She is involved with Upward Bound in school.
"It's a program that helps prepare students for college," she explained. "There are advisors that make sure I'm on track to go to college."
She said Upward Bound provides programs at YVCC during the summer that usually last six weeks. "They make it fun," she added.
One of her most enjoyable moments at high school was last year's powder puff football game. Playing for the juniors, her team beat the seniors 34-14, a feat that doesn't happen very often, according to her.
Cienfuegos is also a youth leader at St. Joseph's Church and works part-time at McDonalds.
She hasn't decided what she plans on doing after high school but it will either involve joining the United States Air Force or attending Washington State University. One thing she does know for sure is she wants to be a pediatrician.
"I've always wanted to be in the medical field and I love kids," she explained.
She lists drawing and taking art classes as her hobbies. With the help of her art instructor, she was able to get four of her pieces in the Larsen Gallery in Yakima for Latino art. The starting price on each piece was $100 but she didn't allow any to be sold, instead, giving one to her mom.
She likes to write poetry as well, loves to dance and likes to spend time with family and friends. "That's really important to me," she added.
Cienfuegos will perform a Cha Cha routine with long-time friend Matthew Santoy for the talent portion of the pageant. They will dance to the Gloria Esteban song, "Traces of Tears."
Why should Cienfuegos be the 2007-08 Sunnyside Miss Cinco de Mayo?
"I know I'll make a really good role model," she said. "I will do everything to the best of my ability. I'll get things done on time or even earlier. I'll go that extra mile."