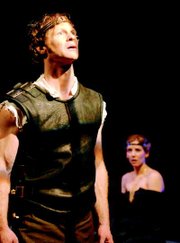 The Seattle Shakespeare Company is bringing the bard to Sunnyside next month with a performance of "Chamber Macbeth".
School matinee performances will be Wednesday through Friday, April 11-13, at the Sunnyside High School auditorium. Student matinees will be performed each of the three days. For student ticket reservations, school districts are asked to call (206) 733-8228 x212.
The community performance of "Chamber Macbeth" will be at 7 p.m. on Thursday, April 12. Tickets are $15 and will be available through the Sunnyside High School Associated Student Body (ASB) after April 1, 2007. Tickets are also available through Seattle Shakespeare Company by calling (206) 733-8222 or online at www.seattleshakspeare.org
"We're thrilled to bring this production to the Yakima Valley," said Seattle Shakespeare Company's Artistic Director Stephanie Shine. "This production is charged with an energy that really makes the play come alive for students."
In "Chamber Macbeth", director Russ Banham draws upon the realm of conquistadors and pre-Columbian mysticism to create a tight, emotion-packed production. A ruthless lord seizes power with the help of his scheming wife and a trio of other-worldly witches. Urged on by eerie prophesies and ambitious desire, Macbeth slices through kinsmen, friend and foe in a bloody climb to power at whatever cost.
The cast features Hans Altwies (Macbeth), John Bogar (Banquo/Porter and others), Gordon Carpenter (Macduff and others), Jennifer Sue Johnson (Lady Macbeth and others), Leslie Law (Ross and others) and Taylor Maxwell (Malcom and others). Set design is by Jennifer Lupton, with costume design by Heidi Ganser, lighting design by Tim Wratten and sound design by David Pascal.
Support for Seattle Shakespeare Company's production of "Chamber Macbeth" is provided by a grant from the National Endowment for the Arts/Arts Midwest Shakespeare in American Communities Initiative and from Sunnyside Community Hospital.
The producing partner for production is Sunnyside High School.
Organizers say that "Chamber Macbeth" is appropriate for ages 13 and older.
The Seattle Shakespeare Company is Washington state's only year-round professional, classical theater dedicated to producing the work of Shakespeare.