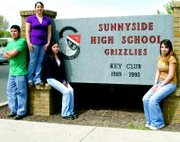 Twenty percent of this year's Washington State Youth Ambassadors Group are Sunnyside High School students.
Twenty migrant youth were selected as youth ambassadors statewide, and Sunnyside High School students Juanita Tellez, Aristeo Borges, Mayra Tapia and Angelita Madrigal were among them.
"I think this is really good. It's a good experience," Tellez said.
The group will travel to high schools throughout Washington to promote positive values and academic goal setting for their peers.
The four SHS students said they feel the program encourages them to do whatever they want to do in life. They feel it is a good way to diminish hindering factors.
"It will help us with scholarships, and it will help us to become better prepared for college," said Borges.
These youth are in the migrant student program and have overcome great odds to become successful students, according to Sonja McDaniel of Sunnyside High School.
"We will be able to help our community," said Tapia.
The group also expressed a hope that the program will help them have more opportunities to set a good example for other students.
"We want other students to get involved," commented Madrigal.
The program, sponsored by the Office of the Superintendent of Public Instruction, has already awarded the students with laptops for communication purposes, and representatives have been helping them to fill out college applications, according to Sunnyside High School Counselor Estrella Aguilar.
To qualify for the program the candidates filled out an application, provided answers for six essay questions and obtained a letter of recommendation.
They will need to maintain a minimum of a 3.0 GPA throughout their participation in the program.
Aguilar said the purpose of the program is to train students and parents to prepare the students for their future education goals and give them leadership skills. She said it encourages them to help other students pursue a future education and their dreams.