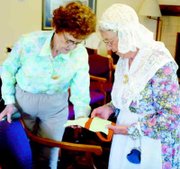 About 20 residents at Sun Terrace Retirement and Assisted Living in Sunnyside took a trip down memory lane yesterday with a Dutch-themed day.
Linda Duim works in the activities department at Sun Terrace and sparked the idea to have a Dutch day. "We have 14 people of Dutch descent here and my husband is of Dutch descent," said Duim. "It seemed like a fun thing to do."
The fun started at lunch time with Dutch-related menu items such as mashed potatoes and kale with bacon.
Also yesterday, Duim made ollie bollen, sort of a Dutch doughnut, in conjunction with a tea service and presentation by Rena Van Oostrum, who wore an authentic Dutch costume.
Van Oostrum said she and her husband and children came to the U.S. in 1956, taking a train from New York to Yakima before settling in the Outlook area.
"We didn't speak English then, but there were a lot of people who spoke Dutch here so we were comfortable," she said.
Though it was 20 degrees below zero when she and her family first arrived in Yakima, Van Oostrum smiled and praised the usually mild winters and frequent sunshine in the Yakima Valley.
Also on display during the Dutch program yesterday were wooden shoes. In addition, Duim brought genuine Dutch pottery to provide even more accent from the old country.
"This is fun!" Van Oostrum laughed. "There are a lot of Dutch people here."