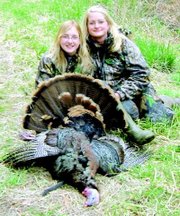 She was sitting with her father and brother huddled underneath a tree in full cammo, including head cover and mask, when the tom came strutting down the old logging road.
All three remained calm, although Madison Door began to get a little nervous. This was the 13-year-old's first turkey hunt and she had already lost two other chances to bag one earlier in the day.
As Madison began to get excited, her brother Austin and father Justin remained calm, allowing Madison to shoot when ready. The tom made its way to the decoys the three had set out, fanning out its tail feathers in a show of dominance. The seconds ticked off as the bird got closer and closer, the tension mounting as Madison's mother, Sara Door, stood watching from a distance recording the moment on video.
BOOM!
And it was over. The 18-pound, Rio Grande tom turkey with a nine and one-half inch beard was now Madison's.
A month later the Sunnyside girl describes the moment a bit more calmly.
"The tom came running down the road towards our decoys and I shot it," she explained. "I felt excited, like I accomplished something."
Madison's kill makes hunting a family affair now. Father Justin Door has been hunting and fishing his whole life, and his wife has been hunting for a long time as well. This is brother Austin's third year of hunting and Madison's first.
"It's good to have another family member hunting," Justin Door said. "We go as a family and it's neat to go out to the wilderness. It's fun."
The Doors are accomplished archers and Madison and Austin have been awarded several trophies for their efforts. But a shotgun is a little different from a bow.
Madison received her 20 gauge shotgun for her 13th birthday and two weeks before the youth turkey hunting season started she began practicing with it.
She was a little nervous about firing the shotgun.
"I had shot a rifle before and it kicked so I was afraid to fire it," she recalled.
She finally overcame her anxiety and fired the gun, after that it wasn't a problem for her anymore, she said.
It took her about three evenings of practice before she started hitting her target regularly.
"Madison is a very focused person," Sara Door said. "Anything she tries she succeeds at."
She progressed well enough that on the weekend of April 7-8, Madison and her family got up at 2:30 a.m. to make their way to the mountains in eastern Washington.
"Turkey hunting is completely different than other bird hunting," Madison's father said.
He explained that turkeys can't smell so their sight and hearing senses are heightened.
"You have to coax the turkey to you," he said.
If a turkey sees a hunter or any movement, they will spook and flee the area.
Madison almost got a turkey on her first attempt but some other hunters came into the area and spooked the bird.
Later that day, hiking up an old logging road the family had been on before, Justin stopped and sent out a turkey call. He heard a gobble so Justin, Austin and Madison set up the decoys and laid in wait as Sara moved back to film the action.
Madison's first hunt excited her enough that she is looking forward to next year so she can bag another one. She also wants to start duck hunting.
Now, after Madison's first hunt, her goal is to hunt a turkey with a bow and arrow.
"That would raise the difficulty level up a lot," her father said.
But, judging by her archery trophies and her actions on her first hunting trip, it shouldn't be too difficult for her.