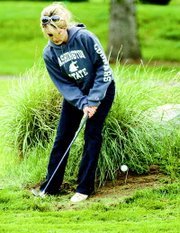 Despite serving as the hosts for a five-school CWAC girls golf match, Grandview was unable to field a complete team yesterday afternoon.
Of the three Lady 'Hounds who did show up to play, Alexiis McLean turned in the lowest score for Grandview. McLean shot consistent front and back nine scores of 67-65-132.
McLean's highlights on the day were a pair of bogeys-the first coming on Black Rock Creek's par-3 second hole, the second on the par-3 ninth.
Hannah Ziegler was second in for Grandview with an 18-hole round of 165. Ziegler managed an 81 on the front nine, ballooning slightly to an 84 after the turn.
Rounding out the Grandview squad Tuesday afternoon was Amanda McLean. She absorbed an 88 on the first nine, and elected to call it a day at the turn.
Yesterday's medalist was Kim Ellis of Ellensburg. She toured the par-72 Sunnyside course with a 93, on front and back nine scores of 46-47. Ellis's highlights were a couple of pars, those occurring on the first and 14th holes.
The only other golfer to break 100 yesterday was Quincy's Hannah Ferguson. She carded a 96-47-49.
Ellensburg claimed top team honors by tallying a match low 450 strokes. Ephrata, led by BreAnne Duff's 109, edged Quincy by two strokes with a 461 team score to snatch runner-up honors. Finishing behind third place Quincy was Wapato with 517 team strokes. The Wolfpack got a 107 from Wendy Lopez.