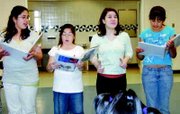 OUTLOOK - A 15-year-old boy was arrested this morning in connection with the shooting death last night of a Sunnyside man during an altercation in Outlook.
George P. Salinas III, 20, of Sunnyside was gunned down at about 5:30 p.m. yesterday at the corner of Second and B in Outlook when the tan passenger car he was in encountered the suspect vehicle in which the 15-year-old boy was allegedly riding.
An initial investigation by the Yakima County Sheriff's office revealed that Salinas and others in his car had a confrontation with the occupants of the suspect car. Deputies say the 15-year-old shooting suspect fired one or two shots at Salinas as he stood outside of his car. Salinas suffered a single gunshot wound to the chest and later died at Sunnyside Community Hospital.
Investigators are still trying to piece together the events that led to the confrontation and the shooting. The county's chief of detectives, Stew Graham, said the five people riding in the suspect car all had a history with gangs. One witness reported that all five people in the suspect car were wearing blue.
Graham said he did not know whether Salinas or others in his car had gang ties.
This morning, Graham also confirmed there were three known adults in the victim's car, with the possibility that small children were in the process of being loaded or unloaded into the vehicle at the time of the shooting.
The alleged 15-year-old shooter was arrested at 7:30 a.m. today in the 1500 block of Yakima Valley Highway following a tip phoned into the Sheriff's office.
Two other passengers in the suspect vehicle were apprehended last night, a 19-year-old man and a 15-year-old girl, and face charges of accomplice to murder.
Graham declined to identify those charged in the shooting case until after their preliminary hearings scheduled for this afternoon.
Law enforcement officials are still searching for the other two people in the suspect car.
In response to the shooting and the age of the suspects involved, the Sunnyside School District this morning declared an external lockdown for all campuses.
The external lockdown means that students are allowed into buildings for classes, but must remain inside. Doors are locked and monitored to restrict entry from those who aren't students or school personnel.
School district spokesperson Julie Kaplicky said if the two remaining passengers from the suspect car tried to attend classes today they would be turned away and reported to law enforcement officials.
She did not know whether the lockdown would continue beyond today.
"They're definitely looking for a few people (related to the shooting). We don't know how many guns they had access to," Kaplicky said. "From our perspective, the most important thing is student safety."
. John Fannin can be contacted at (509) 837-4500, or e-mail jfannin@eaglenewspapers.com