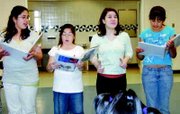 Fifty-eight Outlook Elementary School students will be performing "The Little Mermaid" this coming Saturday, May 5, at Pioneer Elementary School.
The play is about a mermaid who wishes to become human and is granted that wish on a temporary basis. In her discoveries, she finds love.
Show times will be at 3 p.m. and 7 p.m. in the Pioneer Elementary School gymnasium. Ticket prices are $1 for children, $3 for adults or seniors and $5 for families up to eight.
The performance is being directed by Brian Hill and Christine Longe of the Missoula Children's Theatre.