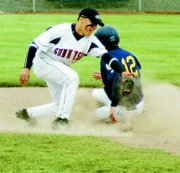 After a solid start in game one, the Sunnyside High School baseball team couldn't keep up with visiting Southridge yesterday in 9-2 and 15-0 Columbia Basin League losses.
The Grizzlies struck first in game one, as Gibby Briones smashed a first inning home run to give Sunnyside a 1-0 lead.
The Suns didn't get to starting pitcher Zach Marquez until the fourth inning, posting two runs to take the lead for good.
After Southridge plated three more runs in the fifth to go up 5-1, Sunnyside appeared to climb back in the game when Briones drew a walk, stole second and scored on a B.J. Miller single.
The Suns put the game away for good in the seventh, though, rallying for four additional insurance runs.
"They had seen Zach a few times by then and they were starting to time their swings," Coach John Gutierrez said of the Southridge batters.
In the nightcap, Southridge removed all doubt early with five runs in both the first and second innings. Briones collected Sunnyside's only two hits in game two, going 2-for-2 at the plate.
The twin bill marked the home finale for Sunnyside seniors Leo Ramirez, Marquez, Miller, Robert Snyder, Justin Casteneda and Sef Amaro. All of the seniors started in the Sunnyside line-up for game two, noted Gutierrez.
Sunnyside (0-10, 0-17) wraps up the 2007 campaign this Friday at Eastmont.