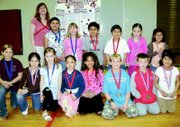 GRANDVIEW - This year's first grade students who participated in the 21st Century program at Harriet Thompson Elementary recently held a science fair.
The projects required use of scientific method to state a hypothesis and testing of the hypothesis with experimentation, according to 21st Century Coordinator Julie Wysong.
The students had three months to work on their projects and the winners of the first science fair at Harriet Thompson Elementary were Allison Davis, Kamryn Arteaga and Kylie Colson, who were awarded first place honors. Second place honors were given to Madison Diener, Ulysses Mendoza, Alexandra Garcia and Tommy Diaz. Westly Lakins, Felicia Peña, Grace Meza, Lorely Lopez and Vanessa Thompson received third place honors.
All first grade students who participated presented their projects as teams. Their projects were on ladybugs.
Two students presented individual projects. Kassidy Hurst was the first place award winner and Harley Hurst was honored with second place.
Davis, Arteaga and Colson received Best of Show honors after traveling to the State Science and Engineering Fair in Bremerton.
Kassidy Hurst was awarded with second place in her category in Bremerton and Harley Hurst was honored with a third place award in his category.