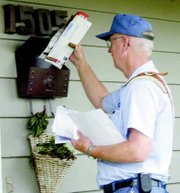 After 15 years serving as a postal carrier for north Sunnyside residents, "City Route Five," Lester Schreiber is retired as of yesterday.
The long-time postal carrier began his career with the United States Postal Service after a four-year stint in the Air Force. He said he has enjoyed his career with the post office, however "...It's time to move on."
Schreiber has worked for the postal service for 33 years, and he has enjoyed seeing and talking with customers on his route.
"I enjoyed getting to know them and just tried to stay out of trouble," he stated.
The man is humble in that he really was embarrassed to have focus placed upon him.
"Could you just forget about this?" Schreiber asked with a small laugh.
He said regarding his job, "You have your moments. But, I have really enjoyed it. I have just tried to ensure the mail got to the correct boxes. No one's thrown rocks at me yet."
Will he miss his route?
"I don't think I will miss it too much. I will miss my customers, however," Shriber replied.
He says his immediate plans are to take a trip to Maui with his wife. After that, "I want to golf, ride motorcycles and do what my wife tells me to do," he laughed.