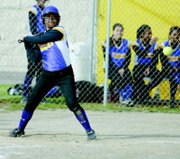 The Mabton High School fastpitch team worked hard on its offensive skills this week and it showed in Wednesday's first game of a doubleheader with Naches. The Vikings were able to produce six runs on seven hits, but five errors allowed Naches to score four runs in the fifth inning and five runs in the seventh inning for a 15-6 win.
Josie Chase pitched the entire game, striking out three batters and walking three as well.
Naches took at 3-0 lead in the first inning but the Lady Vikes fought back to score one run in each of the first two innings to cut the Rangers' lead by one.
In the third inning Naches' bats came alive for two runs and then errors committed by the Vikings in the fifth inning allowed the Rangers to take a 9-2 lead.
"They capitalized on our errors in those last innings," Mabton Coach Jesus Sustaita said.
Down 14-4 in the bottom of the seventh, Mabton fought back for two more runs to account for the final score.
Jessica Quesada was 2-for-3 in the first game. Consuelo Flores was 1-for-3, Diana Valle hit 1-for-2, Sara Sosa was 1-for-4 with an RBI, Chase hit 1-for-4 and Crystal Arreola was 1-for-2 in the first game.
"We've been working on our offense all week," Sustaita said. "It showed in the first game but in the second game our bats couldn't find a hole."
Chase again pitched the second game, striking out one batter and walking one.
As a team, Mabton committed four errors in the nightcap and were unable to produce just one hit in the game.
"Our bats went cold," Sustaita said. "The girls made contact but we couldn't find the gaps out there in the field."
The Rangers scored one run in the first, four runs in the second, one in the third, two in the fourth and seven runs in the fifth to beat Mabton 15-0.
Mabton (0-8, 0-15) will face White Swan at home Tuesday, May 8, for a 4 p.m. game, originally scheduled for May 12. Mabton was scheduled to play Zillah on the fifth, but due to officiating problems, this game has been moved to Wednesday, May 9, at 4 p.m., in Zillah.
Corey Russell/Daily Sun News
Mabton's Jessica Quesada keeps her eye on the ball late in the first game of yesterday's doubleheader with Naches. Quesada went 2-for-3 in that first game.