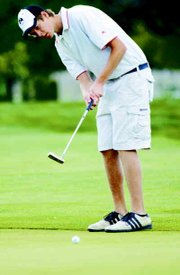 Junior Justin Bos, yesterday, proved that his even-par 72 at Cle Elum's Suncadia golf resort this past Tuesday wasn't a fluke round.
Playing in a non-league, three-school match on his home Black Rock Creek Golf Course Thursday afternoon, Bos skated around the 18 holes with a 3-under-par 69. It was the first time ever he's cracked the 60's.
"Justin, he's kind of in that zone right now," said SHS Coach Glenn Braman. "He's keeping it in play, and, his course management is getting a lot better."
In posting front and back nine scores of 36-33, Bos went on an unbelievable four-hole run...picking up four consecutive birdies on 12, 13, 14 and 15.
"Justin has always hit the ball cleanly. Right now, the way he's managing his game, it's brought it all together," said Braman.
The one sour note to Bos's performance yesterday was that his 69 wasn't low enough to secure top team honors for the Grizzlies. That achievement was claimed by Grandview.
The Greyhounds tallied a match low 361 strokes, 49 strokes better than second place finishing Sunnyside. Goldendale brought up the rear with a team score of 437.
The 'Hounds were led to the team victory by Aaron Riggs and Kaelan Nelson, both of whom shot sub-90 rounds.
Riggs went 44-42 in carding a team best 86. Nelson was two shots back at 88 on front and back nine scores of 46-42. Grandview also got a 93 and 94 from Kyle Womach (47-46) and Kyle Lucas (52-42), respectively.
Also golfing for Grandview yesterday were Jade Parker and Chad Larson, each of whom scored a 99 over the 18 holes of play.
"For Jade and Chad, it was their first time under 100," said Grandview Coach Dave Uggetti.
"Team-wise, this was the first time we've had all six golfers out for a match. I was pretty pleased with their performance," Uggetti said.
Goldendale, despite finishing last in the team scoring race yesterday, did record the second low individual round. The Timberwolves' Zach Wanderscheid posted a 2-over-par 74.
In finishing second with a team score of 410, Sunnyside got individual rounds of 106, 107 and 128 from Nick Navarro, A.J. Visser and Camilo Sanchez, respectively.
For the southpaw freshman Navarro, his 106-50-56 was a career round, said Braman.
Visser hit the turn with a 50, ballooning slightly after the turn to a 57. Braman said Visser keeps getting closer to breaking that 100 mark.
Sanchez also showed improvement for the Grizzlies yesterday with his 128 (69-59). "He's figuring out a way to get his strokes down," said Braman.
Also competing for Sunnyside yesterday, although their individual rounds weren't applied to the team total, were Joseph Villanueva (131) and Abel Cardenas (138).
The Sunnyside boys golf team is scheduled to close out league play at the Wenatchee Country Club next Monday, May 7. The Grandview boys squad will return to the links the following day, May 8, at home for a non-league match against Ephrata.